In response to The Daily Post's writing prompt: "Treat."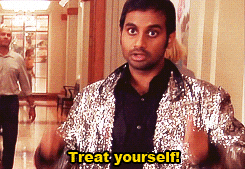 I rarely treat myself. I always seem to get for my children before myself. I mean, that's what parents are supposed to do right? Right. However, sometimes I just feel the need to get something that I want, not that I need.
I have a friend who gets a massage every Monday to start off her week. I have a friend who gets a mani pedi every Friday because she said she deserves it. I have friends who go to Disneyland practically every weekend, just because they can. I can't do these things. I have bills to pay and children to take care of myself as a single parent. Not to say they don't have bills, but my friends, as mentioned above, are in a completely different family/financial situation than I am.
So, with pushing all those feelings and my bank account aside, I bought myself a pair of sneakers about a month ago. I was totally fine, struttin' around in my new shoes, loving the compliments, and all that. Until I started thinking about bills. Why can't my mind just shut off for a little bit so I can enjoy the damn sneakers??!
Anyway, like I mentioned, it's a month later and I'm almost completely over spending money to buy myself a pair shoes. Almost….